ANCA, Australia's leading CNC machine tool manufacturer with its Indian operations based in Bangalore, The company has organized for live demonstration of its flagship products like FX5 and MX7 Linear tool & cutter grinding machines and its in house developed software, ToolRoom. The company is showcasing at Hall 3A Stall A103.
Both machines use ANCA LinX linear motors for axis motion (X & Y axes). In conjunction with linear scales, a high level of machine precision and performance is achieved, resulting in superior tool accuracy and surface finish. With LinX Linear Motors there is no loss of machine accuracy over time due to wear and it is not affected by temperature variations.
The FX5 is part of the FX tool and cutter grinding machine range, and is ideal for everything from light manufacturing, to regrinding and even full production. Its best performance and productivity range is for cutting tools up to a diameter of 12mm (1/2").  This machine is generating huge interest among Indian buyers.
FX range includes the entry level FX3 includes a single wheel pack spindle and 9.5kW spindle. FX5 includes a two-wheel pack changer and options for auto tool loading. The FX7 includes a higher power 19kW spindle with robot options for tool loading and changing of 6 wheel packs.
Another highlight at ANCA's stall is the MX7 Linear grinding machine, which is part of the MX tool and cutter grinding machine range.  MX7 Linear is designed for volume production tool grinding up to 25mm. MX7 Linear includes a 38kW spindle with highly flexible 6-wheel pack changer as standard, and options for automatic tool loading and tool measurement.  At a lower price point, is the MX5 which includes a 2-wheel pack changer and 26kW grinding spindle.
The new ToolRoom 2016 software from ANCA offers customers a variety of new features to boost productivity and improve usability. Flexibility to design and manufacture complex tool geometries has always been one of ANCA's strengths. Features included in this latest release are new operations for Formed flute from solid and polish, cylindrical grinding, corner radius and a new profile software. Collision protection on machines is also part of ToolRoom 2016 to avoid wheel and collet collisions during grinding.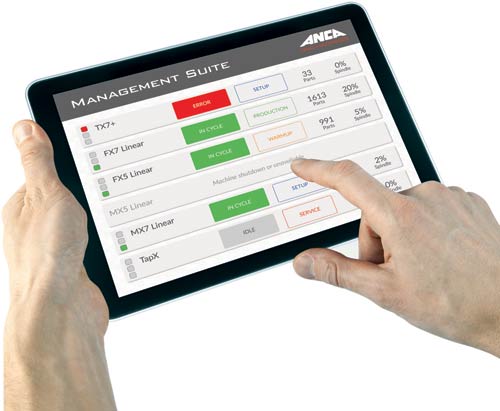 Another software product on display at IMTEX is ToolDraft, ANCAs latest software package for creating 2D cutting tool drawings. A fully dimensioned functional drawing with tolerances and multiple views can be created with minutes from a pre-existing template. This will help customers to create drawings of cutting tools manufactured on ANCA machines without relying on third party software.
 ANCA's new Management Suite displayed at IMTEX is a game changer for the CNC grinding industry. The software enables customers to monitor the operational performance of their machines no matter where they are in the world and provide live production data to make informed operational improvements. Management Suite provides machine analytics which give companies the ability to produce highly accurate reports on machine usage, enabling them to identify waste and increase overall equipment efficiency."