In an effort to explain the industry the overall product manufacturing right from ideation to creation, India's leading B2B media houses, CNCTimes.com, Mfgtechupdate.com and DailyCADCAM.com joined hands to bring a one-of-its-kind seminar 'Art2Part'.
The informative presentations in the two-day seminar helped professionals from the machine tool and allied industry to gain in-depth understanding of the latest designs, machine tools and testing technologies. It also helped the participants to identify market trends and acquire competitive knowledge of the leading machine tool players.
The seminar covered topics such as IoT (Industry 4.0), Reducing cycle time and cost on CNC machine, New trends in CAM – Paper less Manufacturing, Designing a game changing product, Driving design by simulation, Dynamic machine techniques, Ways to choose right cutting tools, Role of CAE/CFD in developing better products, challenges in micromachining, Virtual reality influencing the fundamentals of design etc.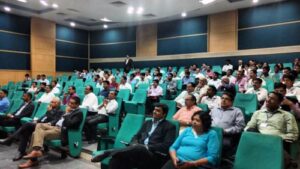 The seminar held on December 5-6, 2016 at Auto Cluster, Pune was jointly inaugurated by Vineet Seth, Managing Director, Mastercam India; A A Qazi, Director, Precihole Machine Tools Pvt Ltd and Gautam Doshi, Advisor, Indian Machine Tool Manufacturers' Association (IMTMA).
In their keynote address, the dignitaries listed down the various challenges that manufacturing industry is currently facing and enlightened the audience on ways to tackle the same. They also urged the participants to make optimum use of the latest available technologies and opt for digitalisation of the manufacturing process so as to achieve maximum success in product development.
This, they opined, will also help in getting optimum return on investment. The speakers also stressed on supporting the 'Make in India' concept.
The other speakers of the seminar included Shibashish Ghosh from Altair, Sambit Pradhan from Geometric Ltd, Ajay Deshkar from Siemens PLM, Mohib Khan from Ansys, Hardayal and Mr. Vatsal Naik from PTC and others, Dineshsingh Thakur from DRDO, B P Poddar FEMCO India, Sashi Menon from Hoffmann And Hemant Kamat from Shalaka Technologies.